To hear Sam Mihara speak in your area, please contact Sam
NEWS AND INFORMATION
Future Engagements –
Booking spaces for year 2017 are nearly filled. New engagements are being scheduled for 2018. If you or your group would like to reserve a spot, please contact Sam Mihara as soon as possible and indicate your group description, location and preferred dates.
Presentation in Los Angeles – On September 24, 2016, a new production, MEMORIES OF FIVE NISEI, was held at the Japanese American National Museum. The show was a sellout with a waiting line at the entrance to the theater. The program featured the testimony of five Japanese Americans who told of their memories on the imprisonment in desolate U.S. camps. The combination of Powerpoint photos, video clips and personal testimonials was blended into a smooth flowing story from start to finish. The audience reaction was highly favorable. As measured by a survey after the performance, all respondents stated a high degree of satisfaction with the presentation. On the feedback, 100% of the respondents stated descriptors like "Very well done, excellent, great, outstanding and fantastic". This may set a precedent for future similar presentations. A DVD of this performance may be ordered through this website on the "SHOP" page. Please feel free to ask questions on the "CONTACT SAM" column of this page.
Harvard Law School Results – Here is what a leading faculty member wrote after the presentation on October 18. Michael Klarman, Harvard Law School Professor of Constitutional Law and Constitutional History:
"As someone who has taught American Constitutional Law and Constitutional History for 30 years, I found that Mr. Mihara's presentation added invaluable context to what otherwise can seem an abstract debate over an issue that people today have a difficult time fully relating to. The cartoons illustrating anti-Japanese sentiment and the photographs from the internment camps, together with Mr. Mihara's valuable accounts of the life stories of people in the photographs, brings to life the enormity of the injustices involved in the World War II internment of Japanese-American citizens."
APPOINTMENTS
2017
September 19 – Fullerton CA – Cal State Univ. Fullerton
September 26 – Indianapolis – Holocaust Museum (T)
September 27 – Nashville TN – Keynote Speaker, TN Teachers Conference
September 28 – Nashville TN – Frost Brown LLP
October 5 – New Haven CT – Yale Law School
October 7 – New Haven CT – Yale University
October 11 – Los Angeles – Norton Rose Fulbright LLP
October 13 to 15 – Ht. Mtn. WY – Wyoming Teachers' Seminar
October 26 – Utah Tour – Salt Lake City – Holland and Hart LLP
October 27 – Salt Lake City – University of Utah (T)
October 28 – Salt Lake City – Utah Teachers' Conference – Keynote speaker
November 1 – Berkeley CA – U.C. Berkeley (T)
November 2 – Long Beach CA – Appellate Justices Conference
December 6 to 7 – New York City area Speaking Tour
December 6 – NYC – Akin Gump LLP
December 6 – NYC – American Bar Association (T)
December 7 – Greenwich CT – Greenwich H.S.
2018
January 29 – San Francisco – Lick Wilmerding H.S.
January 29 – Oakland CA College Prep School Keynote
February 19 – UCLA (T)
February 20 – Irvine, CA – U.C. Irvine
March 2018 – Kentucky and Virginia speaking tour
Spring 2018 – Richmond VA – Virginia Holocaust Museum (T)
April (tbd) – Sacramento CA – Hmong National Conference
April 19 / 20 – San Antonio TX – National Council of History Educators – Keynote Speech
April 21 – Houston TX – Anti-Defamation League of Houston (T)
April – Hmong National Conference (T)
May – Chicago – Chapman & Cutler LLP (T)
May 23 – NYC – Willkie LLP
May 24 – Morris NJ – Morris College (T)
July 27 to 29 – Ht. Mtn. WY Pilgrimage
2019
February 2019 – Harvard Law School (T)
Fall 2019 – Princeton University (T)
October 2019 – Columbia Law School (T)

Letters of Recommendation
From UCLA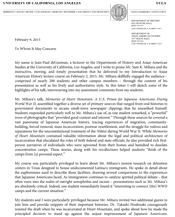 From the University of Texas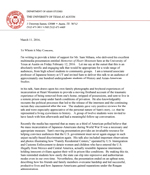 From the Virginia Holocaust Museum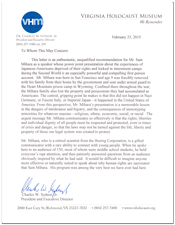 CONTACT SAM