To hear Sam Mihara speak in your area, please contact Sam
NEWS AND INFORMATION – October 2016
Future Engagements –
Booking spaces for year 2016 are filled. New engagements are being scheduled for 2017 with many spaces taken until October. If you or your group would like to reserve a spot, please contact Sam Mihara as soon as possible and indicate your group description, location and preferred dates.
New Presentation in Los Angeles – On September 24, a new production, MEMORIES OF FIVE NISEI, was held at the Japanese American National Museum. The show was a sellout with a waiting line at the entrance to the theater. The program featured the testimony of five Japanese Americans who told of their memories on the imprisonment in desolate U.S. camps. The combination of Powerpoint photos, video clips and personal testimonials was blended into a smooth flowing story from start to finish. The audience reaction was highly favorable. As measured by a survey after the performance, all respondents stated a high degree of satisfaction with the presentation. On the feedback, 100% of the respondents stated descriptors like "Very well done, excellent, great, outstanding and fantastic". This may set a precedent for future similar presentations.
Harvard Law School Confirmed – A presentation at Harvard Law School in Cambridge, Massachusetts is set for the evening of October 18. The presentation focuses on four legal cases including one that resulted in release of all 120,000 prisoners before the end of the World War II.
Major Law Firms Booked – The presentation at the prestigious O'Melveny & Myers LLP was successful. On their live national TV network, the presentation was heard by several hundred professionals. Several large law firms have confirmed future presentations. They include Alston & Bird LLP, Davis & Gilbert LLP in New York City and Latham & Watkins LLP. As part of their interests in diversity and civil rights, the leading law firms have strong interest in civil rights and mass imprisonment.
Annual UC Berkeley Speech – On November 1, the annual presentation at the University of California, Berkeley, is scheduled. This is the fifth consecutive year for the talk and always includes improvements with news since the last prior talk. This year, the additions include the new prisons in Texas for immigrant Central American mothers and children.
APPOINTMENTS
October 4 – Milwaukee – Nicolet High School, Marquette University Law School
October 5 – Wisconsin – University School of Milwaukee
October 6 – Ft. Worth – Texas Christian University
October 6 – Dallas – Southern Methodist University
October 18 – Boston – Harvard Law School
October 19 to 21 – Andover MA Speaking Tour
November 1 – University of California, Berkeley
2017
February 19 – Washington DC – Day of Remembrance
February 21 – New York City – Davis & Gilbert LLP
February 22 – New York City – New York Public Library (Tentative)
Spring 2017 – Worldwide CCTV Network – Latham & Watkins LLP (Tentative), Long Island Schools
March 30 – April 1 – Atlanta – National History Teachers Conference
– American Bar Association / Asian Attorneys Group
May – APA Heritage Month – Alston and Bird LLP; DOJ / U.S. Attorney's Office (Tentative), Iowa City IA Diversity Focus Group (Tentative)
May 10 – Omaha NB – Metropolitan Community College and Omaha Tour
July 28 / 30 – Heart Mountain Wyoming – Annual Pilgrimage
October – Salt Lake City – University of Utah (Tentative)
Letters of Recommendation
From UCLA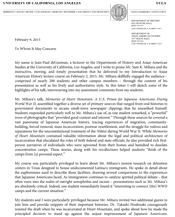 From the University of Texas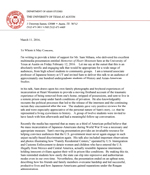 From the Virginia Holocaust Museum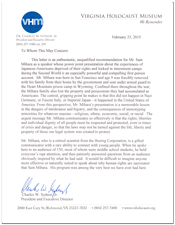 CONTACT SAM