To hear Sam Mihara speak in your area, please contact Sam
NEWS AND INFORMATION
Future Engagements –
Booking spaces for year 2017 was filled in mid-year. Spaces for 2018 is becoming filled and new engagements are being taken for the year 2019. If you or your group would like to reserve a spot, please contact Sam Mihara as soon as possible and indicate your group description, location and preferred dates.
Summary of Results in 2017 – In January, 2017, the annual visit to UCLA was held with a special audience of history honors students. In February, the first of the speaking tour system was activated. In a single trip to the NYC area, speeches were made at Princeton, Columbia Law School, Hofstra University and several NYC law firms. In March, a visit to Atlanta included Emory University, a law firm, a national teachers' conference and the Japan Society of Georgia. April included a revisit to U.C. Berkeley and a church. May included tours of Nebraska, Dallas, San Francisco and San Diego. In June, speeches were made at California Holocaust Museums, a California Courts conference and a Rotary Club. July included several museums, a law school and a church in Wisconsin. Also in late July was the speech and guiding task at the Pilgrimage at the Heart Mountain Wyoming prison site, which saw a new record attendance since the new museum / school was opened in 2011. August included a speech at a retirement community center in California. September was very busy with a speaking tour of Chicago, a joint appearance with a Muslim attorney, the headquarters office of the American Bar Association and presentations in Indiana and Tennessee. November included a national conference of judges and lawyers with over 300 attendees in Long Beach, California. Also a speaking tour of Indianapolis and Greensburg Indiana was held. The latter included a symposium on discrimination including experts in Asian, Black, Muslim, Holocaust and a member of the Indiana Supreme Court. December includes a speaking tour of New York City and Greenwich, Connecticut. The year 2017 has been a busy year. 2018 is expected to be similar, if not busier.
APPOINTMENTS
2018
February 6 – Claremont CA – Harvey Mudd College Keynote
February 20 – Irvine, CA – Univ. of Calif. Irvine
March 13 – Chicago – Chapman & Cutler LLP
March 14 to 16 – Northeast Wyoming – Upton, Sheridan, Buffalo, Gillette
March 21 to 23 – Tennessee Tour – Murfreesboro and Tiptonville
April 19 / 21 – San Antonio TX – National Conference of History Educators – Keynote Speech and Gagnon Prize Award
May 2 – Washington DC – Baker McKenzie LLP
May 3 – Indianapolis & Terre Haute IN – Ice Miller LLP and Holocaust Museum
May 21 – Chicago – Winston Strawn LLP and Jenner & Block LLP
May 22 to 24 – New York City – Willkie LLP, Rockville Centre School, Kramer Levin LLP
June 23 – Dallas – Dallas Holocaust Museum
July 25 – Lander WY – Lander H. S.
July 26 to 29 – Heart Mountain Wyoming Pilgrimage, Presentations, Tour and Board Meeting
October 15 – Boston – Harvard University and Harvard Law School
October 19 & 20 – Salt Lake City – Utah Bar Association and Ht. Mtn. Board Meeting
November 10 – Atlanta – National Appellate Judges Education Institute Conference (T)
2019
Spring 2019 – Yale University and Yale Law School (T)
Fall 2019 – Princeton University (T)
October 2019 – Columbia Law School (T)
Date (TBD) – Spain – Madrid University (T)

Letters of Recommendation
From YALE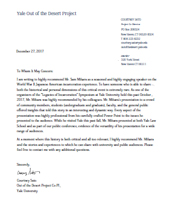 From UCLA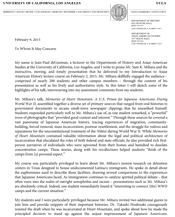 From the University of Texas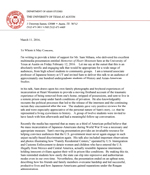 From the Virginia Holocaust Museum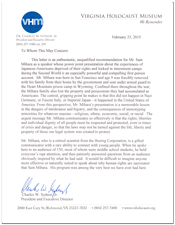 CONTACT SAM