Reviews of Sam Mihara's Heart Mountain Presentation: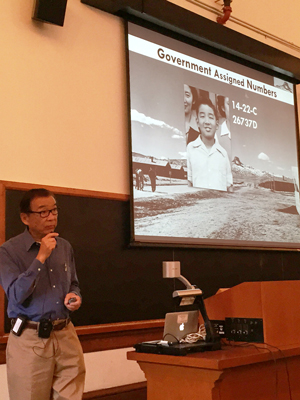 Japanese internment survivor educates Greenwich students
By Alexandra Villarreal, Greenwich Times
Published 7:36 pm, Thursday, December 7, 2017
Photography courtesy of Bob Luckey Jr.
GREENWICH — When the government decided to document Japanese American internment, officials chose Dorothea Lange for a reason. Through heart-wrenching photos like the "Migrant Mother" series, she had proven her capacity to capture the humanity in tough situations and pull on viewers' heartstrings.
---
"Thank you … for an informative and enjoyable presentation." – Kanji Sahara, Vice President, Greater LA Chapter, JACL, January 22, 2015.
"What distinguishes Sam's presentation is the fact that, as a youth, he actually was interned at the Heart Mountain (WY) Camp and, therefore, is capable of painting a vivid word picture of the felt reality of that experience, eliciting a deep level of empathy and understanding from his audiences." – Dr. James Bruggeman, Executive Director, The Montana Council for History and Civics Education, November 10, 2014.
"Your public presentation did an outstanding job of conveying some of the experiences of being in an internment camp during WWII." – Isadora A. Helfgott, Assistant Professor, Department of History, University of Wyoming, October 21, 2014.
"We urge you to consider hosting [Sam Mihara] and discover for yourself and your audience this once-in-a lifetime opportunity to hear from someone who lived it." – Tamsen Hert, President, and Linda Fabian, Executive Secretary, Wyoming State Historical Society, October 20, 2014.
"I would highly recommend that any group thinking of visiting Heart Mountain invite Sam Mihara to be their guide and guest lecturer." – Karen Arnold, Lifelong Learning Specialist, Osher Lifelong Learning Institute, Casper College, October 14, 2014.
"It has been nearly a month since Mr. Mihara graced our campus with his presence and there is still much discussion about his presentation." – Donna White, Community Education Director, Eastern Wyoming College, October 13, 2014.
"Mr. Mihara's willingness to share his experience benefits everyone who is fortunate enough to attend his presentations." – Steve Togami, President, New Mexico JACL, March 31, 2014.
"I can attest to not only the value of the content of Mr. Mihara's lecture, but also the consequential impact that his inspired delivery of it made on all of the students who were privileged to be present to receive it in Dr. Woo's American Studies class." – Dr. Arthur A. Hansen, Professor Emeritus of History and Asian American Studies, California State University, Fullerton, March 11, 2014.
"Sam Mihara's presentation was enlightening, well told and very relevant." – Alice Ishigami-Tao, President, Japanese American Citizens League SELANOCO Chapter, January 25, 2014.
"Your talk is very good and covers the ground well." – Dr. Takashi Hoshizaki, former Heart Mountain prisoner and Heart Mountain Wyoming Foundation Board Member, January 18, 2014.
"… very engaging and delivered in a fashion that is not only informative, but personalized …." – J. George Tanaka, Senior Vice President, Union Bank, January 15, 2014.
"… to have the opportunity to hear the personal voice of a former internee is extremely rare and valuable." – Tomoko Ozawa, Ph.D., Administrator, Association for Immigration Studies, Musashino Art University, Tokyo, December 3, 2013.
"[The children] learned so much and we had many lively discussions afterwards." – Shawn Jones, Fourth Grade Teacher, Powell Grammar School, Powell Wyoming, June 21, 2013.
"Numerous audience members … remarked that it was one of the best presentations they had ever attended at NWC." – Amy L. McKinney, Northwest College, Powell, Wyoming, June 21, 2013.
"Thank you for taking the time to make society better," – Karen Lester, San Francisco City Guides, May 18, 2013.
"This has been one of the most celebrated presentations the Central Wyoming College's Diversity Committee has organized in months." – Marilú Duncan, Central Wyoming College, May 1, 2013.
"One attendee called it 'the best presentation of the conference' and another said it was 'thought-provoking and brilliant.'" – John Csepegi, Director of Conference & Events, National Council for History Education, Inc., March 26, 2013.
"… a very meaningful and thought-provoking presentation." – Leroy Pepper, Nashville Public Schools, March 25, 2013.
"Sam's story is one that all Americans would benefit from hearing," – Susie Woo, Ph.D., Faculty, USC, March 12, 2013.
"He carries a powerful message that is as relevant today as it was 70 years ago." – Don McLaurin, Group Leader, Road Scholar Programs, December 2, 2012.
"I, along with more than 100 of my students, found Mr. Mihara's presentation to be genuinely illuminating as a history lesson, a case study in human rights, and as a personal testimony of a great American injustice." – Michael Cohen, Ph.D., Lecturer, U.C., November 9, 2012.
"Mr. Mihara's talk was detailed and informative, covering everything from the legal challenges of interment to the daily life in the camps." – Drew Hettinger, West High School, Torrance, California, September 13, 2012.
"Sam has worked diligently to put together an informative and entertaining presentation using historical records and other archival material." – Stevan Leger, Executive Director, Heart Mountain Wyoming Foundation, September 1, 2012.
"Mr. Mihara would be an asset to any education program." – Vicki R. Pollock, Casper College, August 5, 2012.
"The students were wholly engaged in his accounts, the photos afforded them a rare glimpse into this shameful period in American history …." – Kate Wiley, Chair, Lick-Wilmerding History Department, April 30, 2012.
"This program was fascinating and all of our employees enjoyed it." – Christopher A. Crofts, United States Attorney, District of Wyoming, February 17, 2012.
"One faculty member stated … this was one of the best speakers ever brought on campus since she has been teaching here, which is over twenty years," – Mary Ludwig, Laramie County Community College, February 7, 2012.
Letters of Recommendation
From UCLA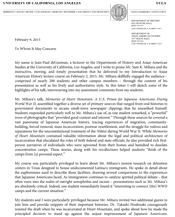 From the University of Texas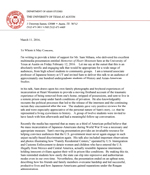 From the Virginia Holocaust Museum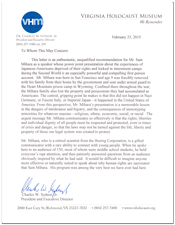 Contact Sam Mihara